Spring is approaching in my part of the world and that means...MUD!
My favorite pair of rubber and neoprene garden shoes have sprung a leak and need to be replaced. I have tried different types of garden shoes. I don't like the waterproof work boots that the guys wear--they're too heavy and definitely unfashionable unless you're a grunge gardener. I find most rubber clogs impractical because they get pulled off my feet in the muck. Even with a hardcore lifelong shoe fetish I don't like the flower printed light weight garden shoes--although I've been tempted to try a pair of
Bogs
(above). Practicality is going to win over fashion this time if I can replace my current favs so shopping around for replacements is not a burden, it is a challenge.
The first pair of garden shoes I bought were red
Jollys
clogs--definitely a bold choice. Great color and cork insoles, but they made me feel ridiculous. These same red shoes now languish at the bottom of the basement stairs in case of a flood.
They've been worn once in 10 years.
Next, as sometimes happens, the pendulum swung towards practicality and I had a pair of
Muck Boot Company
(left) shoes that I wore out but definitely weren't fashion forward like the clogs. I liked the neoprene liner that kept my feet warm and let them breathe. They lasted for two seasons before the treads wore down and they became dangerous to wear.
On a trip to Vermont I found a pair of
Sorels
(below). I'm not sure if the style name 'Garden Mules' is appropriate, because they are decidedly unmule-like and UGLY, but I know that mine, after four years of wear and tear, need to be replaced and they are very difficult to find. They might even be discontinued since those I have found in my size are only available in one color. No choice for a shoe addict is not fair.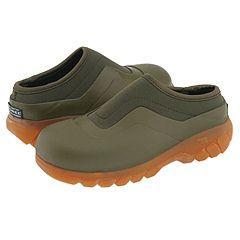 My Sorel Garden Mules thick clog-like sole and neoprene insert keeps my feet warm and dry and they have great traction. I've even worn them to walk in and they have great support. They have only come off my feet once in deep mud--and I wear them every day for 2-3 months. They're ugly, unfashionable and have no pretty flowers on them but they get my vote and my money again.